This shop has been compensated by Collective Bias, Inc. and its advertiser. All opinions are mine alone. #PeriodConfidence #TryTheDivaCup #CollectiveBias
I was sitting in a coffee shop with a friend of mine, telling her how excited I was for my upcoming beach vacation. She asked if I planned to spend a lot of time in the water, and I remember leaning over to her and saying "I do, but I'm… I mean… I'm" I affected a very quiet whisper and leaned in closer "going to be on my period." For me, that was the kiss of death for my vacation, and it meant I'd be sidelined for pool and beach activities, instead sitting and reading. It was then that my friend did something out of character… she pulled a small pouch from her bag and said, much louder than my initial whisper, "How about a menstrual cup?" and opened the pouch to show me her DivaCup.
I'd grown up using pads. That's what my mom used, it's what my grandmother used, and it's what I learned to use when I got my period. I'd been given the option of tampons, but I was a pad girl. I leaned over to her and took a peek, and she showed me how flexible it was. I just looked at her, dumbfounded, and said "I don't use tampons."
In the middle of the coffee shop that day, my friend sat with me and explained all about why a DivaCup was so great, explaining that they weren't tampons, and definitely didn't feel or behave like tampons. She was pretty convincing, and I wanted to spend my beach vacation swimming, so that afternoon, I drove straight to my nearby CVS and picked up my size of DivaCup (Model 2) from the menstrual care aisle. That was over a year ago, and I've been a big fan ever since.
Growing up, I could not have told you any of my friend's period choices, honestly. I mean, if my friends used pads or tampons, or even menstrual cups, I wouldn't have known. But lately, I've been trying really hard to break the taboo and talk about the reality. Periods freaking suck sometimes, and I think we need to start talking about it and finding ways to make it not suck as much.
For me, that means making sure I have plenty of dark chocolate and my favorite bath bombs on hand for some great self-care. But it also means making sure I've got my DivaCup and DivaWash ready to go.
I'm one of the lucky ones who has a pretty regular period. The perk of this is that I can go ahead and put my DivaCup in before my period arrives, and then I'm leak-free when it shows up that day. I can't tell you how many panicked moments I had in high school where I thought I might have suddenly gotten my period, completely unprepared, during class. As an adult, I'm happy to not need to stash a hoodie in my locker to wrap around my waist just in case… it's way more helpful to catch that before it happens.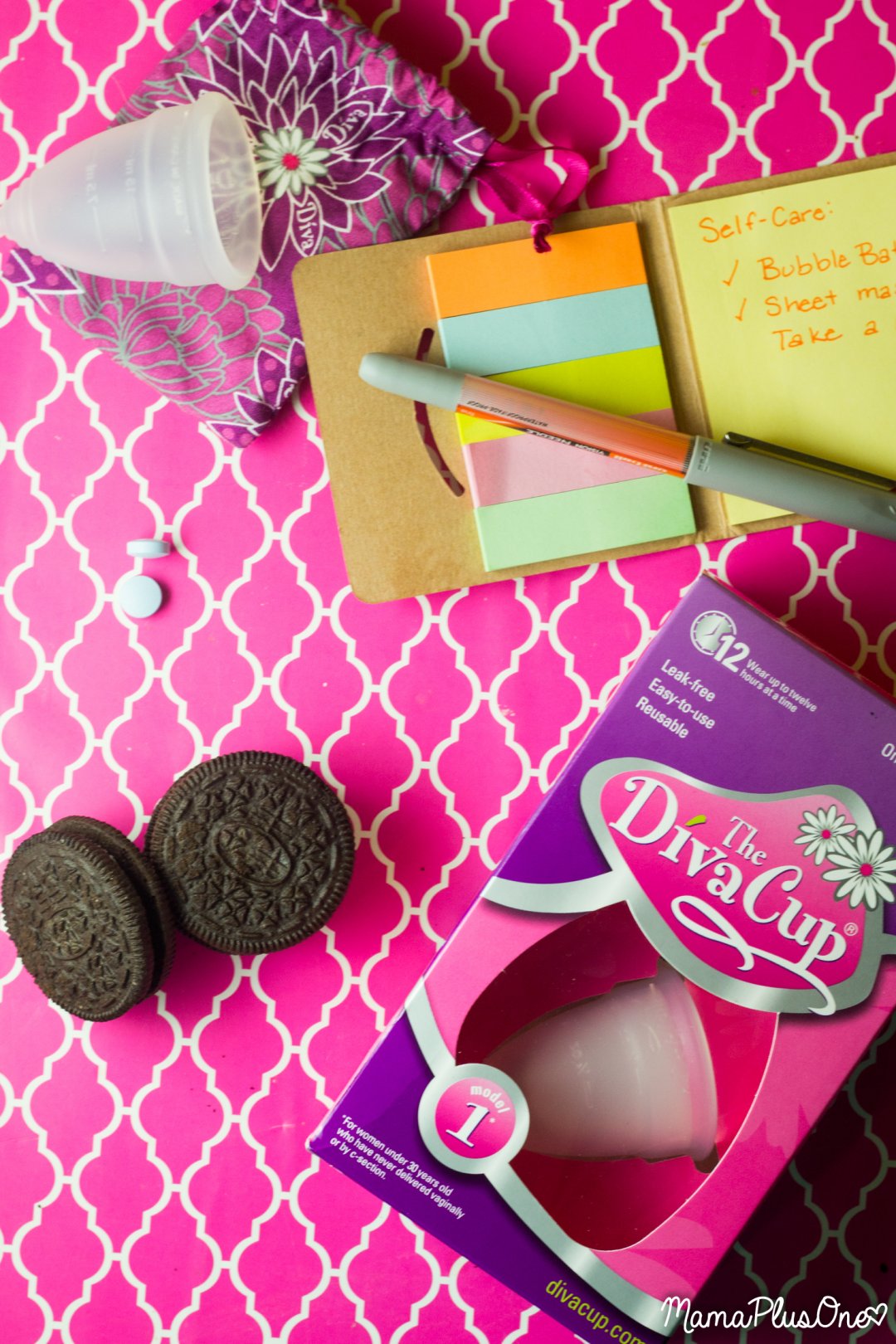 (If you want to try The DivaCup for yourself, click on the image above to shop now!)
I've gotten kind of nosey lately about my friend's periods. Because I'm pretty confident about making periods suck less and that talking about it can help. One of the best things I ever did was bring up my fear about getting my period on vacation to my friend, since she had some great advice for getting through my vacation.
When I found out my BFF didn't use a menstrual cup, but wanted to try one, I assembled a quick care package of period essentials like a DivaCup, some DivaWash, and a pack of some vegan cookies she loves.
So why am I all about getting in everyone's period business now?
Because sometimes talking about stuff can change things for the better. For example, I used to have to excuse myself to the bathroom alllll the dang time to change my pad. I woke up with leaks because my pad had shifted in the middle of the night and then I had some major laundry to do. And can we just be gross for half a second? Periods kind of smell.
The DivaCup helps eliminate all of this. It's leak-free and totally okay to use overnight, too, allowing you to keep it in for 12 hours, then empty out and wash to re-insert. It sits low so it's easy to remove, and I had no trouble using it even on the go.
Also, I can't tell you how many times I've gotten my period and realized I was either almost out of pads, or was completely out of pads (because, let's be real, who wants to think about stocking up for their period when they're not on their period?). Thankfully, The DivaCup is good for a year, which means no more running out of my menstrual care items, and it saves a ton of money at the same time, so I'm constantly having to wait for a sale to buy pads that'll last me the next several cycles. (The DivaCup is only $39.99!)
My eco-friendly bestie loves that The DivaCup is pretty much waste-free– there isn't anything to throw away outside of the initial packaging, and the cup after one year.
Obviously, it's a huge help to check out the DivaCup user-guide, since it gives a lot of information and tips you need to know to make sure The DivaCup is the right fit for you. You can even get in touch with them by email or on your favorite social network.
But for me, The DivaCup just makes sense. As a busy mom, I don't have time to worry about making sure I'm stocked up before my period comes, taking 15,000 (maybe that's a slight exaggeration) trips to the bathroom to change out my period gear, or doing extra laundry because I leaked. But it's not really just for busy moms. My BFF isn't a mom, but she's definitely always on the go, meaning she doesn't have time for the icky period junk, either.
Things You Need for a Stress-Free Period
A DivaCup in the model that fits you– if you're under 30 and have never delivered vaginally or by c-section, you'll be a model 1, and if you're over 30 or have delivered vaginally or by c-section, you'll be a model 2.
DivaWash to wash The DivaCup before re-inserting and after use.
Plenty of chocolate or your favorite go-to period snacks (because, um, no one wants to face a period without something delicious, let's be real)
Time in your busy schedule for self-care. Even if it's 10 minutes to do a quick sheet mask, you're going to need to properly take care of yourself during that time of the month.
Lots of WATER. Staying hydrated makes everything go more smoothly. It's great for your skin (which can be icky during your period anyway) and is just great for your overall health.
What do you do to keep periods from sucking, and would you or have you ever tried The DivaCup?
Let me know in the comments below– I want to hear your thoughts on periods. Let's talk about it! You can check out more period tips and hacks from other bloggers here, or find where to buy a DivaCup near you right here. Get more details from the User Guide here.